The 3rd edition of Montreal's
International Digital Art Biennial (BIAN)
​​
​
This year, the BIAN presents its major exhibition AUTOMATA - Art Made By Machines For Machines at Arsenal Contemporary Art, a venue dedicated to presenting, promoting and developing contemporary art, from June 3 to July 3, 2016. Canadian and international artists will offer a large palette of eclectic works. BIAN audiences will discover a new generation of creators and established artists who effortlessly combine visual art processes with digital technologies to create the art of today and tomorrow. Switzerland was the guest country of this BIAN 2016 edition.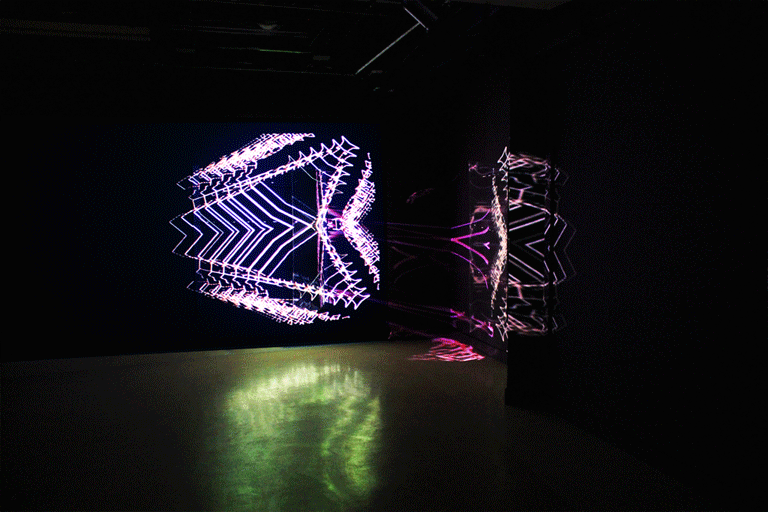 Maison de la culture Marie-Uguay
April 30-June 3, 2016
Montreal, QC
Stereo Linear Balance is a double channel video installation that stages an immersive and analog stereoscopic illusion. Plexiglass structures invade the gallery walls. They become reflective screens, activated through the light of the projected image. The repetition of lines and colours of the animations are projected onto the space and are reflected off of the plexiglass structures. The screens expand, duplicate and merge the images within the gallery space. The presentation of ephemeral and physical materials blurs the line between 2D and 3D. The animations from this work emerge from temporal studies on shadows and light motion in space. Furthermore, there is a 3D monitor looping stereographic animations, which were made using 3D drawing software, Sandde and are viewed using 3D filter polarized glasses (like the ones used at the cinema).
Stereoscopic 3D Animations